Before you get into episode 3, remember to read about episode 1 here and episode 2 here and episode 3 here and episode 4 here and episode 5 here and episode 6 here and episode 7 here!
Dun, dun dun! The final episode! Everyone's identities will finally be revealed in this review. And I also have been following the members on their Instagram and I will share my thoughts on where they are now!
This time it's the guys' turn to choose their dates. Jung Jin chooses Sae Ra, Yeon Woo chooses So Young, In Ook and Chan Woo choose Ga Bin.
In Ook's the most confident as he walks in the girls' room as now everyone knows he's a Love Catcher (and the girls all want him). He even asks Ga Bin on a date in front of everyone (ha, Yeon Woo in the middle of them). I think this is adorable. The tension in this room gets high as shortly after this, Chan Woo comes into the room and asks Ga Bin to come outside with him – where he asks her on a date.
Skipping to Ga Bin's date with Chan Woo first
They get on a yacht for a date on the water. This means a lot to Chan Woo as we noted in a previous episode that this was where Ga Bin and In Ook went on a date and that did not settle well with Chan Woo. The views are picture perfect – emerald blue water, clear blue skies.
With Ga Bin and In Ook's date
Ga Bin meets In Ook at his cafe (go follow him @rato_coffee). The cafe is cozy and something you want to go to with a blanket and your winter read. They sit and answer more burning questions about each other and you're left feeling a bit sure that if this relationship went beyond the show, it would be stable and be a good balance.
The final decisions come. BUT WAIT! There is a twist before this. The members can switch their identity before they decide who to choose. Before the decisions are revealed, we get a hint that two members changed their identity.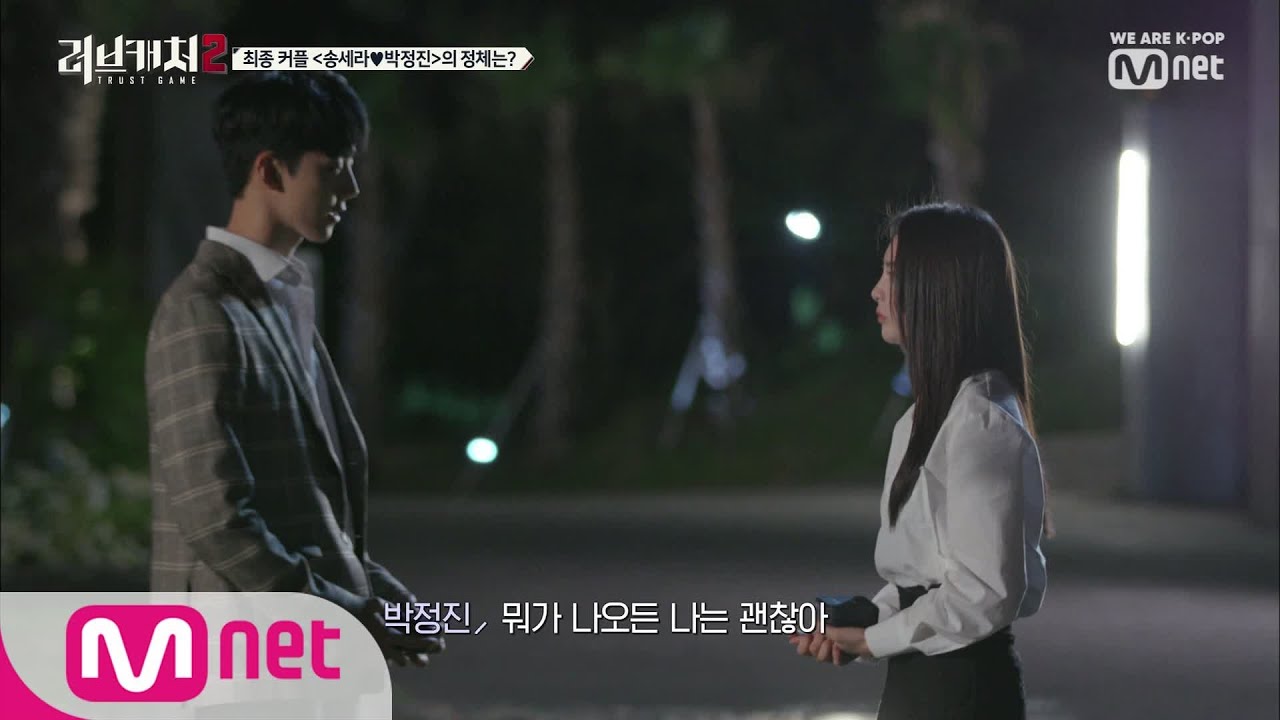 First couple up first: Sae Ra and Jung Jin. They both open each other's boxes and they are both Love Catchers. We get some background that a couple minutes before this reveal Sae Ra changed hers from Money to Love. They both chose their hearts and in the end, chose each other.
UPDATE 11/17/19: They have their own Youtube channel. Find their vlogs here! They vlog about their dates, Q&As, and just their daily lives. They are still going strong after the show!
The second couple to reveal their boxes are So Young and Yeon Woo. Yeon Woo is Love but So Young is Money. So Young is the one who ends up crying in the end and in the end we find out Yeon Woo switched his to Love. He makes light of the situation and make So Young feel less bad with his antics.
The final couple is (unfortunately) Ga Bin and Chan Woo. I rooted for him all the time but this last episode rubbed me in all the wrong ways. Ga Bin ends up passing In Ook to give her box to Chan Woo – and guess what? Chan Woo is Money! That smirk when she left. The comments he made even a couple seconds up until they opened each other's boxes… I just felt so bad.
And it left him a little hurt too. Unlike the other members, he was late to join the Instagram gang. He even wrote a note for when the finale aired for the viewers, as he knew his mistakes. But even so, there has been so many instances when this whole group got together after the show, and you guessed it Ga Bin and Chan Woo were there too.
As far as where they are now, Chan Woo set up his own coffee shop in Korea. Sae Ra and Jung Jin are continuing their full time jobs while uploading cute couple pics and vids online. In Ook is still running his coffee shop and is doing very well. Yeong Seo and Chae Rang are kind of a mystery but they both upload from time to time on their Instagram. So Young has been a bag designer but with the prize money she is expanding her business it seems like to include all fashion. And Ga Bin? She's uploaded a couple of professional headshots – unsure if she is going to pursue something in the entertainment industry but I wish her the best!
*All photo, video, and content credit to Mnet and the show Love Catcher. Disclaimer: tallkoreangirl is a participant in the Amazon Services LLC Associates Program, an affiliate advertising program designed to provide a means for sites to earn advertising fees by advertising and linking to Amazon.