Spoiler alert: never underestimate the youngest of the group.
Before you get into episode 3, remember to read about episode 1 here and episode 2 here and episode 3 here!
Chae Rang and In Ook scheduled a breakfast-making date the day before, making this the first time these two are alone together. Chae Rang gets ready at 8:30 am, and I mean this girl is full makeup ready with some fancy dangle earrings. The thing is, In Ook forgets and goes jogging with two other guys.
Disappointed, she comes back to the girls' side of the house and then Sae Ra with the cute save "How can people go running this early?" Again, my new girl crush. To our surprise (or not), when In Ook comes back he doesn't even remember he made such plans. Lol.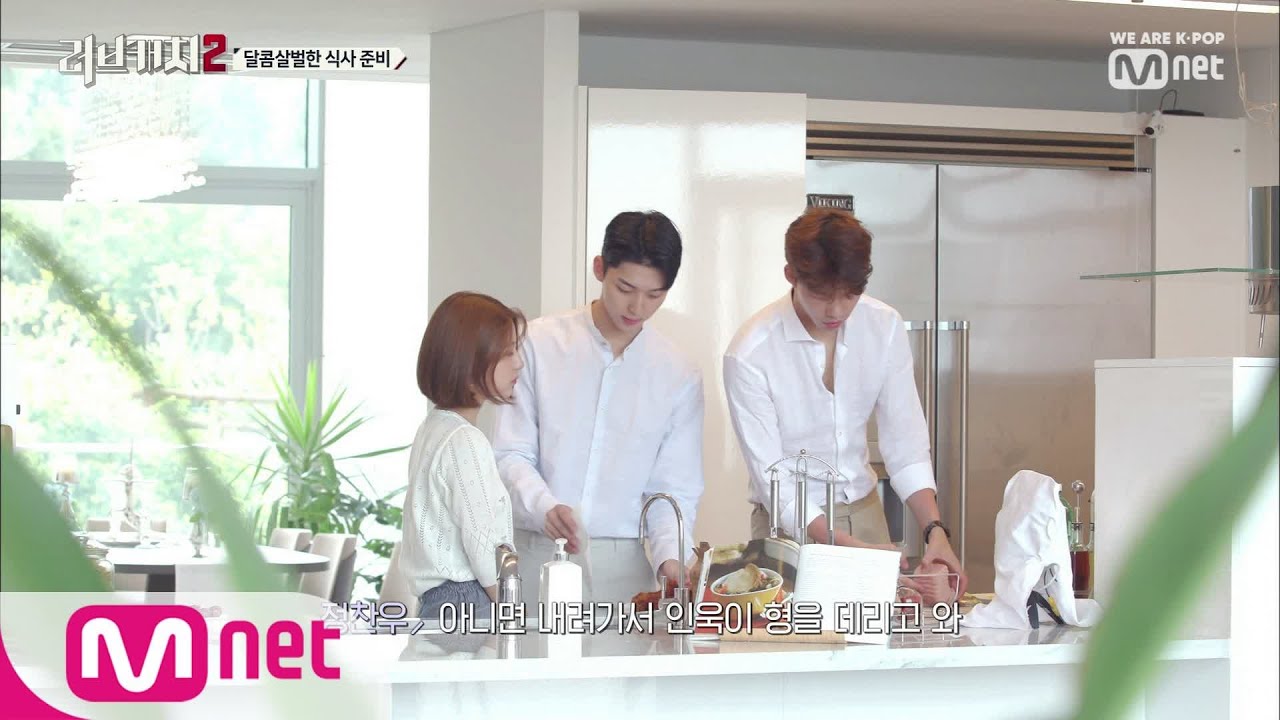 Leave it to the sweet guys Jung Jin and Chan Woo to the rescue with helping Chae Rang for breakfast. Is there a theme that people follow every day? I mean, these guys are head to toe identical in their outfits. But hey, we ain't complaining! (And neither is sneaky Chae Rang…)
In Ook comes down to the kitchen and she gives the cold shoulder to him at least 4 times. As much as I am not the biggest fan of this girl, I feel for her. Who likes a guy who doesn't keep a simple promise?
But then later, she uses this to her advantage and starts flirting with In Ook at the dining table. Go figure.
A zoom of the table and we note that there are a couple people missing – Chan Woo is clearly stalling in the kitchen and making tomato caprese (what?!) but clearly, he's waiting for someone, you know the girl he literally confessed his heart out to last night at the pool.
And here's the highlight of this episode: Chan Woo pulls out a chair for Ga Bin without her knowing. What a guy.
Chan Woo follows her to the kitchen and asks if she wants to eat breakfast – and then cooks an entire meal just for her. Again what a guy.
Before you get too smitten with Chan Woo, their main TV turns on and lets everyone know of their dates for the day: Jung Jin-So Young, Min Seok-Yeong Seo, Chan Woo-Chae Rang, In Ook-Sae Ra, Yeon Woo-Ga Bin.
These couples are actually surprising, considering no one saw any romantic feelings with any of them.
In the car, Chan Woo confesses to Chae Rang that he has his eyes only on one person. We all know who that is, dude. You are the king of expressing yourself. Ironically, In Ook confesses to Sae Ra that he is not great at expressing himself. You sure about that man?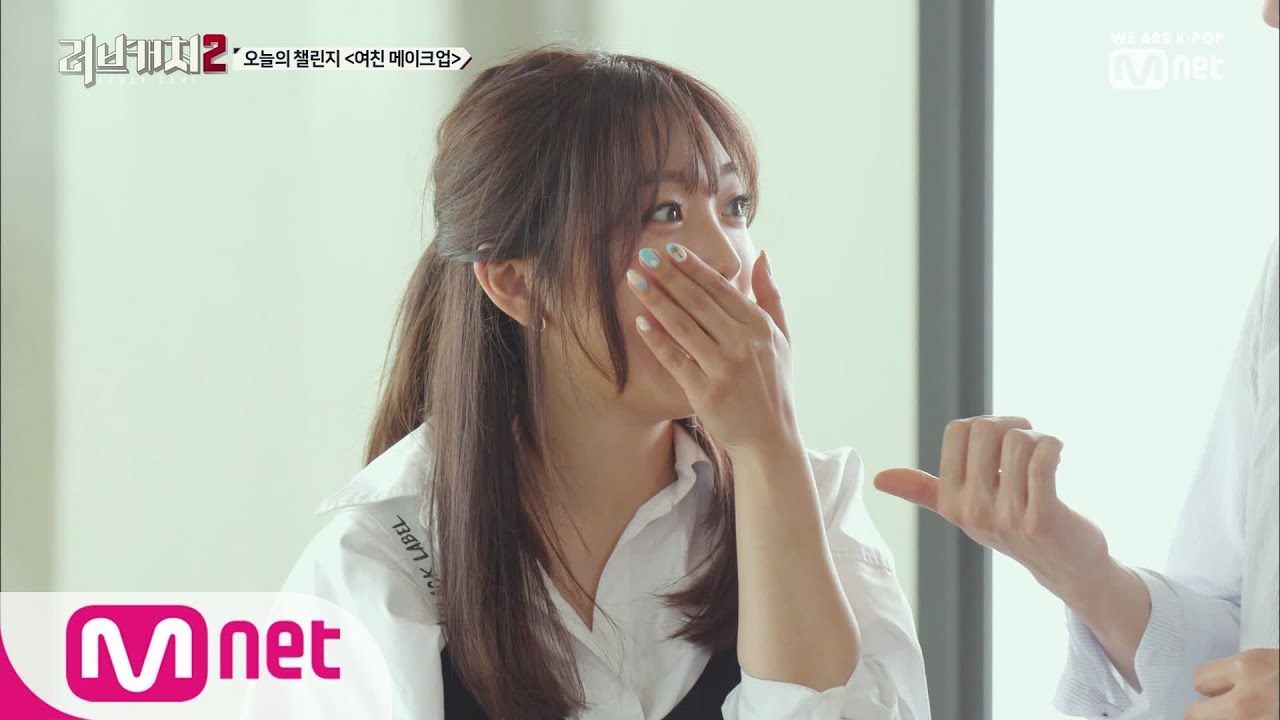 They arrive at the site and the couples challenge is "girlfriend makeup" (or "여친메이크업" in Korean). I don't know what's surprising for the girls – they the guys are doing their makeup or they have to take their makeup off. But to be real, these girls look fab with no makeup on.
Yeon Woo stands out from the other guys. He's a hairstylist but has done makeup before. Evidence A: he did swatches on his hand! Evidence B: he has a powder puff pad on his pinky finger so he can rest his hand on her face!
Min Seok is no joke either though. He pulls So Young in between his knees (literally) to get up close and personal for her makeup session and they start feeling each other out in a good way (until things go south later when he calls her the wrong name). Jung Jun tries to go in bold with the glitter liquid eye shadow, and although the judges say this is way too overboard, I have to admit I wore this to work today. All the guys start using the eye curler (which that reminds me I need one), and let's just say they get closer with the curler!
Chan Woo is funny because as much as he was focused on Chae Rang in the beginning, his focus drifts to his one and only Ga Bin. Chae Rang hits her arm on something, Chan Woo completely doesn't notice (or cares), and then whispers something (probably a big f you) under his breath when he sees Yeon Woo and Ga Bin together. Unfortunately, this was all caught on camera.
But you can feel the tension as Yeon Woo calls him pretty, and Chan Woo goes to Ga Bin's table to get a Kleenex. When he sees Ga Bin, he can't help but smile his 'I like you' smile, and when he overhears Ga Bin ask Yeon Woo cutely if she can get her makeup done by him every morning, Chan Woo's face goes cold.
This date really turned things around for Yeon Woo as multiple times throughout the date, you can hear him say how pretty Ga Bin is and this makes her blush.
I know I shouldn't be, but I could ship Yeon Woo-Ga Bin too. Something about their walk – they just seem comfortable and like a young Romeo and Juliet.
Now for the dinner date:
Chan Woo can't eat seafood so he is going to cook beef. But not just this, he is actually a little sick (possible fever the day before with chills). Ga Bin hesitates at first but gives Chan Woo medicine from her closet. Chan Woo can't help but smile his classic smile – and all of a sudden, he is magically healed.
People know Chan Woo likes Ga Bin. He makes two dishes of the Spam on rice dish and the food literally travels across the table to Ga Bin.
And damn, Chae Rang with the punch afterwards: "Did it taste good?" Girl is not about hiding feelings!
As the winners of the couples challenge, Chae Rang and Chan Woo get to go into the secret room. This time, they get to reveal who one person picked as their interest the night before. Chae Rang picks In Ook but completely regrets this decision as she now knows he picked Ga Bin.
Chan Woo with his fancy trench coat can now be at peace knowing that Ga Bin chose him.
Next week's preview gets a little messayyy. The love triangle has now gone into a love square with three guys (Chan Woo, In Ook, and Yeon Woo) all having interests in Ga Bin.
Who do you think she will pick? And do you think she is Money Catcher or Love Catcher? Comment below!
And see next week's preview here:
*All photo, video, and content credit to Mnet and the show Love Catcher. Disclaimer: tallkoreangirl is a participant in the Amazon Services LLC Associates Program, an affiliate advertising program designed to provide a means for sites to earn advertising fees by advertising and linking to Amazon.